Nutmeg also is known as 'Twin spice' is valued for its flavoring and medicinal properties. Nutmeg yields two types of spice viz., Mace (aril) is surrounding the shell which is scarlet in color, and Nutmeg is the Kernel, which is the hard and brown, enclosed in a thin brittle shell.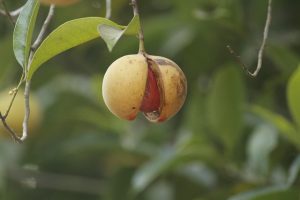 The available space and shade in the coconut gardens which are more than 15 years old can be best utilized by planting Nutmeg as the Nutmeg is a shade loving plant. Nutmeg is planted in between two rows of coconut palm so as to accommodate 50-60 plants per acre. Trees of 15 years of age and above will yield about 1000-2000 or more fruits and large trees, which are over 30 years of age, may yield about 3000-10000 fruits per year. The yield per acre may vary from 300-350 kg of nutmeg and 50-60 kg of mace per annum. A profit of 80,000 to 1,00,000 per acre per annum can be expected.
Nutmeg is a beneficial intercrop in coconut and coconut farmers are recommended to grow Nutmeg as intercrop as it best utilizes the space between the coconut palms and also it provides a sustainable source of income to the farmer.