Coconut produces nuts around the year. Therefore, an adequate supply of water is essential for its unhindered growth. Soil moisture plays a vital role in the absorption of nutrients. Adverse effects of moisture stress will be like drooping of leaves, abnormal growth, premature nut fall ultimately leads to low yield. Importance may be given to the following aspects so as to ward off stress.
Husk burial for moisture conservation
Burying fresh or dried coconut husk around the palm is a desirable practice particularly for moisture retention. The husk can be buried either in linear trenches taken 3 m away from the trunk between rows of palms or in circular trenches taken around the palm at a distance of 2 m from the trunk. The trenches may be of 0.5 m width and depth. The husks are to be placed in layers with a concave surface facing upwards and covered with soil. The beneficial effect of husk burial will last for about 5-7 years. Instead of the husk, coconut pith can be buried @ 25 kg/ palm/year.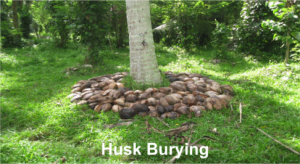 Mulching
Mulching is an effective method of conserving soil moisture. Mulch the coconut basins with green/dry leaves at the close of the northeast monsoon (October-November). Mulching also adds organic matter to the soil and reduces the soil temperature. Do not disturb soil in the coconut garden during the summer months. In level lands, during rainy seasons excess water may be conserved in small trenches dug out in the plantation. In sloppy areas, land may be terraced and trenches dug across. This will facilitate the maximum percolation of rainwater and water storage. For moisture conservation, lowermost 3-5 leaves may be cut and removed. Provide adequate shade for the transplanted seedlings for 1-2 years. To minimize the heat load on the stem, the application of the lime solution on the trunk up to a height of 2-3 m at the start of the summer season is recommended.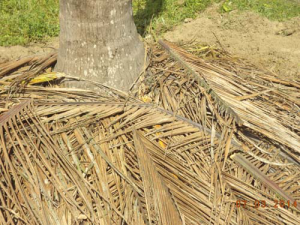 Green manure and cover crops
Sow green manure and cover crop seeds during April-May with the onset of pre-monsoon rains. The green manure crops should be plowed in and incorporated into the soil during August-September. This will increase the water-holding capacity of the soil. Calapagonium can be grown either as green manure or cover crop. Tephrosia is especially suited for planting around seedling pits for summer shade and as a source of green manure in the rainy season.
Article reference:
Kerala Agricultural University.
Package of Practices Recommendations:
Crops. 14th edition. Kerala Agricultural University, Thrissur