Rain Gun Irrigation System for Coconut with Inter crop
(Banana, Green Grams)
The coconut palm requires large quantities of water for its normal growth and timely production. In normal conditions and in absence of rains every palm needs about 16-18 litre water daily. Regular irrigation helps to increase the fruit set, improve the size, and copra content. Production of female flowers and setting percentage increase considerably due to timely irrigation. However, stagnation of water and ill drained conditions should be strictly avoided.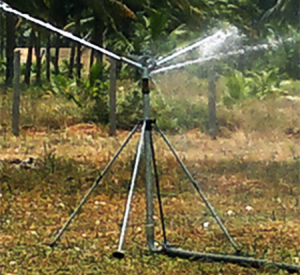 Nowadays, Indian farmers use Drip Irrigation System for Coconut Farms. This method of Irrigation covers only a diameter of 10 feet around the tree. But Coconut tree's roots spread around all areas which do not receive sufficient water all day. During summer, it won't be able to absorb minerals and fertilizers, which leads to poor in coconut production. So, one must wet (Irrigate) all areas of coconut farms to get proper functioning of roots and better yield.
The farmer can consider Sprinkler Rain Gun Irrigation System, as it gives complete coverage of water in all areas which helps in the perfect functioning of roots to absorb all manures. So, the cultivation of Intercrops like Banana, Grams, fodder is very easy. This type of irrigation system creates a micro-climate that is favorable for earthworm's growth which helps in natural organic farming activities.
Source:
1. Thumba Agro tech
2. Vikaspedia