Management of Coconut leaf hispid or miner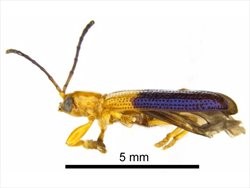 Coconut leaf miner/hispid beetles are a serious pest insect of coconut in most of the Asian countries. There is a high risk of outbreaks through incursions into new environments.
Photo 1: Adult Fiji coconut hispid, Promecotheca caerulipennis.
Hosts
Coconuts are the most important crop attacked, but the beetle also infests betel nut, sago palm, and a number of ornamental and wild palms. It is not a pest of oil palm.
Symptoms
The adults feed on the lower surface of the furthest third to a half of the leaflets, leaving narrow furrows (Photo 2); the larvae mine the leaflets, leaving large areas of damage (Photo 3). The youngest three to four leaves are first attacked.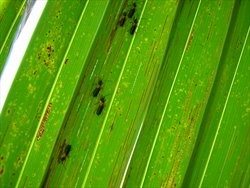 Photo 2: Adult coconut leafminer, Promecotheca species. Note the fine lines where the insects have fed.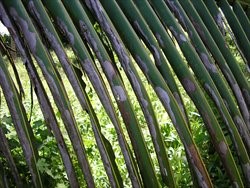 Photo 3: Large areas of decay on coconut leaflets after the leaves have been attacked by the coconut leaf miner, Promecotheca species.
The classic symptom of leaf miner damage is a clean healthy center spike and first or second frond with every other frond dead.

Larvae create mines parallel to the midrib starting at the base of the leaf. The mines (feeding damage) look brown to grey and sometimes white (burnt or decayed appearance).

The affected fronds are weakened and appear ragged due to tearing and breaking in the wind.

All but the very youngest fronds can be destroyed. In severe cases, palms within one plantation may all turn brown. This damage reduces the fronds photosynthetic ability. Palms may die if the attack persists for >2 years.

Nuts will fall early (before they are mature) and flower production will stop, greatly reducing nut production, therefore yield.

Palms of 25 meters (mature palms) or more in height are most susceptible to infestation. However, seedlings can be infested. Palms with good sunlight are also preferred by adult beetles.
Management Practices
Natural Enemies
The ant, Oecophylla smaragdina, was found to be of the greatest importance in controlling Promecotheca papuana in Papua New Guinea, which also occurs in the Solomon Islands. And the ants, Pheidole and Technomyrmex, are also known to attack egg masses.
Chemical Control
Use plant-derived products, such as derris, pyrethrum, or chilli (with the addition of soap).

Alternatively, synthetic pyrethroids are likely to be effective, but will also kill natural enemies.
Source:
1. www.pestnet.org
2. Google
3. CPDT